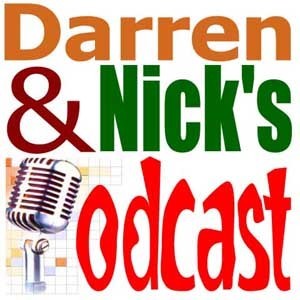 Welcome to our regular review of the top ten unsigned bands in the UK. All songs courtesy of www.bandsuk.co.uk
Our regular review of the top 10 unsigned bands in the uk courtesy of www.bandsuk.co.uk
It's been 2 years since our last show and now we're back with a new format. We are reviewing the top ten new and unsigned bands courtesy of www.bandsuk.co.uk. Give us a listen.
This week we get a few things of our chest and we mix things up with an anagram generator. There's also a strange smell in the studio - what's that all about? Oh, and well done Liverpool.
Darren & Nick rally around in a vintage car - Nick's friend Angus leads the way. We BOW to our beer of the week and WOW Nick's website of the week. Darren gives us a tit update and we're rivetted by the latest frog spawn news. It's all happening here!!
It's St George's Day and we decide to celebrate it in style. We explore the legend behind the man and find out who the real St George was. Nick bangs his drum to a different tune this week - quite literally. Darren F.A.R.T.s yet again!!
Nick looks and feels jiggered, but he makes it to the end of the show. We BOW to our beer of the week and get animated talking about our POW. Darren FART's, again! and Nick pipes up a tune. It's Easter next week so we're taking a week off, but we'll be back the week after next.
Nick pulls it out and gives it a blow - his didgeridoo that is! Darren drums up a POW and lets rip with one of his F.A.R.T's. We talk politics, barbeques and allotments - It's rivetting stuff I can tell you.
BOW, WOW & POW - No it's not a script from a Batman & Robin fight scene. It's Nick reviewing his Beer Of the Week and Website Of the Week. Darren gives us an insight into his Program of the Week and there's plenty of chat in between.
We're really good now, honestly would we lie. This week Darren talks space travel and dog shows. Nick, meanwhile WOW's us with his weird news of animal mating habits.